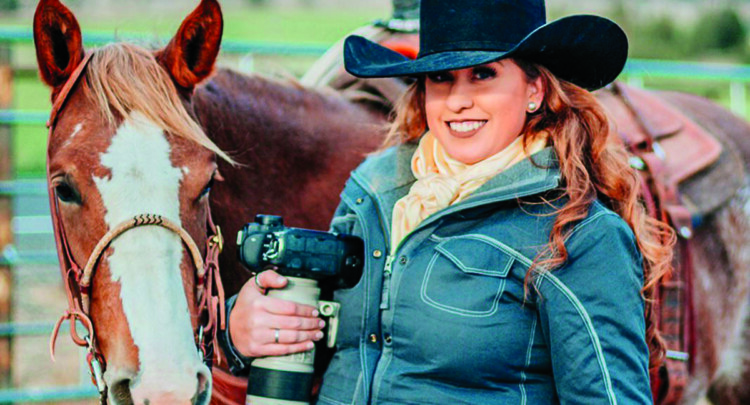 COWGIRL 30 Under 30 2022: Ashley Kendall
Ashley Kendall
Professional Title: PRCA Photographer/Marketing Manager, PRCA
Age: 28
Home: Prineville, Oregon
Ashley Kendall, a cowgirl, a mom, and a true advocate for the Western Industry through her work with McFarland Productions and the Professional Rodeo Cowboys Association. Ashley has spent her entire life in multiple aspects of the Western industry, from growing up showing horses to falling in love with rodeo photography in 2018 and chasing her goals to become a Professional PRCA Photographer.
In 2019, Ashley landed her dream job working beside a true inspiration, Natalie McFarland with McFarland Productions as their Marketing Manager/Photographer/Videographer. During her time with McFarland Productions, Ashley has been highly encouraged to continue her growth with not only company-wide goals but personal goals as well, such as staring her own therapeutic business helping horses and bucking bulls to feel and perform at their highest capability.
Ashley has also set some groundbreaking goals as a PRCA Photographer, one of which includes showing other woman in the industry that becoming a female PRCA Photographer is within everyone's reach, you just need to have the desire.
Ashley is also a mother to her 4-year-old daughter, Kendall, who is just as passionate about the western ways of life as Ashley. Ashley spends every single day not only showing her daughter how hard work and dedication can pay off with any size dream that you have, but it also takes a village of incredible people behind you to make that happen as well.
Vision for the future of women in the Western industry: "Throughout my experience with McFarland Productions and the PRCA, the two most influential women I have come across are some of the best in the business. Roseanna Sales and Natalie McFarland, based on their unmatched influence they have had on my life, I believe that when it comes to woman in the Western industry, specifically the rodeo industry, the growth is exponential.
"I want to empower and mentor not only women, but mothers in the industry to continue that growth not just for themselves, but for the future of the industry as well. My ultimate goal for my PRCA photography is to inspire more women to reach for excellence in such a way that one day, more women will be selected to photograph the Wrangler National Finals Rodeo, just as Roseanna Sales did for other young woman in the industry. When it comes to the Western industry in general, working alongside Natalie McFarland has been life changing and my hopes are to continue that growth within the industry."
Follow along with COWGIRL on Facebook, Instagram, and Twitter for more news and updates regarding COWGIRL 30 Under 30!
COWGIRL 30 Under 30, presented by Wrangler, is sponsored by Cavender's, Charlie 1 Horse Hats, Durango Boots, Montana Silversmiths, and The Cowboy Channel.