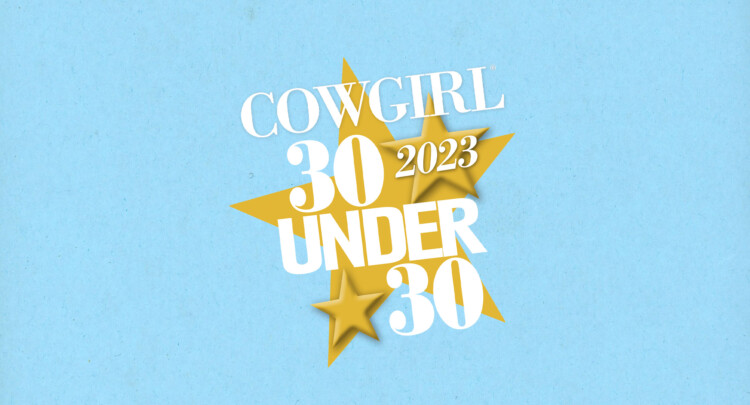 COWGIRL 30 Under 30 Offers Special Recognition
Scoring this year's COWGIRL 30 Under 30 applications was no easy feat. Without question, any one of the 103 applicants this year easily qualify to be among the leadership of young women in our industry.
Although the following ladies were not selected to be in the 30 Under 30 Class of 2023, COWGIRL believes their qualifications and impressive applications for the honor are deserving of recognition.
COWGIRL 30 Under 30 2023
Deserved of Recognition
Alyssa Copeland
Herdsman/Rancher
Copeland and Sons, LLC/Copeland Show Cattle
Amanda Harding
Rancher
Harding Ranches
Angela Meyer
Country Music Artist, Podcast Co-Host
Angela Meyer, Breaking Western Podcast
Ashley Schenck
Director of Marketing Josey Enterprises, Entrepreneur, Barrel Racer, Instructor.
Josey Enterprises – Martha Josey
Audrey Cunningham
Territory Manager, Equine
Central Garden & Pet
Baleigh Rollins
Wedding Photographer | Magazine Owner | Ranch Hand
Baleigh Creed Photo
Billie Holman
Product Manager- Apparel
Ariat International
Caroline Lukens
Rodeo Operations Coordinator (NWSS) & Owner & Operator (Table Mountain Turquoise)
National Western Stock Show & Table Mountain Turquoise
Carrie Kohs
Women's Advocate, Western Jewelry Designer, & Western Wholesale Representative and Influencer
PowHer.fit, Giddy Up Glitz, Junk Gypsy Company, & Ali Dee
Chelsea Novosad
Business Owner, Professional Breakaway Roper/Cowgirl, Elementary School teacher, Houston Livestock Show and Rodeo Volunteer
Rodeo University, Rodeo U LLC
Crystal Mast
Manager/ Carriage Driver
Top Hand Ranch Carriage Company
Danielle Williams
Owner of Past the Sash
Past the Sash
Elizabeth Field
Assistant Head Wrangler
Alisal Ranch
Ellisa Dudley
Western Equine Mortality Expert and Farm/Ranch Underwriter
Bascule Equine Underwriting
Emily Manwell
Western Photographer and Teacher
Visual Vaquera
Fallon Roark
Cowgirl/Artist
O RO Ranch/ Fally Designs
Hailey Rae
PRCA & Western Lifestyle Photographer
Hailey Rae Photography & Professional Rodeo Cowboys Association
Haley Ammann-Ekstrom
Agriculture Sales
NuWay-K&H cooperative
Haley Nevin
Photographer
Sleighton Creek Photography
Haley-Gene Solum
Boot Tech Rep
Rios of Mercedes Boots
Hannah Macy
Entrepreneur
The Macy Co. Marketing + Events, Ariat Texas Rattlers, Jackie Hobbs Crawford, FullBucket Health, Wesley Thorp, Kaleb Driggers, Quarter Horse Cantinas
Hannah Wheeler
Social Media and Influencer Coordinator
Westmoor Manufacturing
Jacie Palmer-Shackelford
Entrepreneur, Boutique Owner, Designer, & Rancher
Western Vogue Boutique
Jacqueline Zacharias
Horse Trainer – Photographer – Videographer – Content Developer
Zacharias Horsemanship & Pro Equine Productions
Jade Kitaif
Marketing, Productions, Chute Boss, Day to Day Operations Secretary
JC Kitaif ProRodeos
Jessica Church
Volunteer Firefighter & Vegetation Management Quality Control Program Manager
Butte County Fire Department & Pacific Gas & Electric
Jessie Lynn
Country Music Singer/ Songwriter/ Equestrian Drill Team and Equestrian Coach/Trainer
Dirt to Diva Productions, LLC
Karlee Tsosie
Owner
Rockin' KT Rodeo Company
Karoline Rose
Entrepreneur, CEO, Agriculture Marketing and Farm to table retail store and Cattlewomen educational platform, Podcast host, Rancher, Cattle Buyer
KRose Company, Cattleman U, The Rancher's Daughter
Kayla Vincent
Financial Advisor, Edward Jones
Kayley Steadham Morris
Sales Coordinator, Twisted X
Kaylia McCracken
Senior Director of Events
National Cowboy & Western Heritage Museum
Keenie Word Moore
Singer/Songwriter/Business Owner
Singer/Songwriter at Keenie and owner of Lakota Lady Designs and Beauty Mark
Kiley Cude
Western Influencer/Photographer
Trans-Pecos Mama
Klancie Dawn Seiler
Horse Trainer/Rancher, Business Owner, Fiddle Player, Administrative Employee
Wolf Mountain Ranch, Ida Bar Leather, Freelance Musician, Steamboat Springs Pro Rodeo
Kristin Tiede
Doctor Of Veterinary Medicine
Downs & Smith Center Veterinary Clinic
Lexi Hoagland
Director of Sponsorships and Influencers
National Roper's Supply (NRS)
Lindsay Vee Humphrey
Freelance Writer/Owner
LV Journalism
Lisanne Fear
Founder of Mustang Discovery Foundation
Mustang Heritage Foundation
Lorrie Ann Minkoff
B2B Sales Specialist, Horse Trainer, and Coach.
Montana Silversmiths and Golden Vision Performance
Lydia Kyle
Owner/Operator, 4th generation cattle rancher
Rancher's Wife Life LLC
Lydia Jones
Equine and Large Animal Massage Therapist and PEMF Practitioner
LB Equestrian and Livestock Services – owner
MacKinnon Crawford
Senior Store Manager
Kimes Ranch Jeans
Maddy Beins
Photographer and Cattlewoman
Maddy Beins Photography and Top Hat Farms
Madison Hoffman
Social Media and Public Relations Director
Horse Guard Inc.
Maggie Stewart
Graphic Designer
Justin Brands Inc.
Mallory Bush
Global Associate Product Manager – Western Footwear & Business Development
Ariat International
Marni Gaskill
Rancher, Business Owner
Horizon Marketing Agency
McKenzie Williams
Veterinary Sales Manager/Marketing
Williams Veterinary Service & Williams General Store/ Wild Winds
Peyton Durrett
Business Owner
Out West Silver Co.
Presley Rose
Digital Media Business Owner and Western Lifestyle Influencer
Branded Media Management Company LLC
Rachel Briggs
Co-Owner
Southeastern Cowboy Network
Raychel Christensen
Graphic Designer – Marketing & Branding Consultant
Raychel Christensen | Western Graphic Design & Marketing
Rebecca Shuttleworth
Western Artist
RShuttleworth Fine Art
Rebekah Trice
Assistant Marketing Manager
Dena Milner & Co.
Riley Tadei
Equine Health Product Specialist
SmartPak Equine
Sadie Dale
Rodeo Competitor, Rancher, Stallion Owner/Manager, Doctor of Physical Therapy
WPRA, Gjermundson Ranch, Shining Famous Stallion, MHA Nation
Sam VanFleet
Mustang Gentler, Colt Starter, and Clinician
VanFleet Mustangs (self-employed)
Samantha Wootton
Entrepreneur & Social Media Manager
Retro Amiga, Rag Proper & Samsville Gallery
Sara Wedel
Horse Wrangler
Bureau of Land Management
Sarah Falen
Agriculture Advocate
Wild West Advocacy
Sarah Donahue
Trade Marketing Specialist
Standlee
Savannah Coffey
Owner/Photography, Cow-Calf & Ranch Manger, Direct to consumer Beef Producer
Owner/ Arrow C Photography, RabbitsCrossRoadsRanch and CoffeyGroundRanch Manger
Shannon Weeks
Marketing Director
WindWalkers Equine Assisted Learning and Therapy Center
ShayLe Stewart
Livestock Market Analyst
DTN
Shayna Allison
Senior Supervisor – Polyclonal Antibody Production – Specialty Reagents
Siemens Healthcare Diagnostics
Shelby Smith
Western Influencer
JW Brooks Hats & Ranch & Famous
Stephanie Nash
Dairy Farmer & Agriculture Advocate
Nash Family Farms & Stephanie Nash Music
Suzie Crooch
Western Content Creator + Senior Account Manager for Simmons Foods
Velvet Brumby + Simmons Foods
Taylor Tomme
Social Media Manager/ Website Designer/Graphic Designer/Production Assistant
Group W Productions, LLC – Produce All IN Barrel Race, ALL IN Breakaway, Stetson Country Christmas, Roper Cowboy MarketPlace, Rodeo World, ANHA Shootout Barrel Race
Taylor Breeding
Director of Communications
National Cutting Horse Association
Victoria Corona
Horsewoman, Entrepreneur
Kerri Mckay Quarter Horses,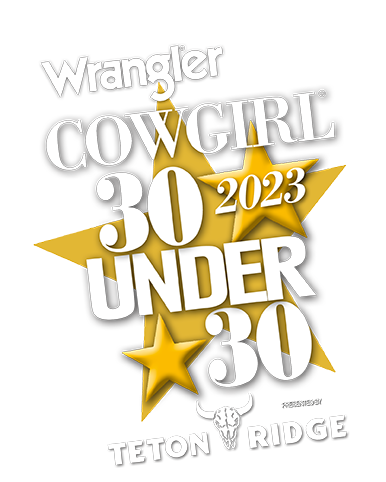 Wrangler's COWGIRL 30 Under 30, presented by Teton Ridge, is sponsored by Cavender's the Official Retailer, Charlie 1 Horse Hats the Official Hat, and Durango Boots the Official Boot, for COWGIRL 30 Under 30, with Corral Boots, Dude Rancher's Association, Montana Silversmiths, Old Gringo Boots, and The Cowboy Channel.
Follow along with COWGIRL Magazine on Facebook, Twitter, Pinterest, Instagram, and the Official COWGIRL 30 Under 30 Website for more news and updates regarding COWGIRL 30 Under 30!