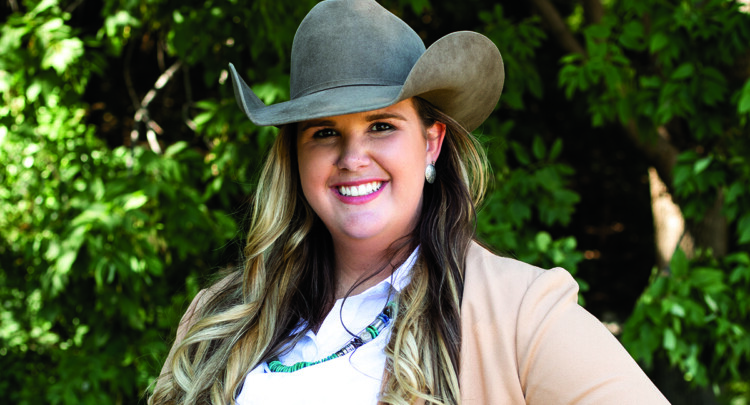 COWGIRL 30 Under 30 2022: Callie McCarthy-Boevers
Callie McCarthy-Boevers
Professional Title: Manager of Marketing and Communications, National Cutting Horse Association (NCHA)
Age: 27
Home: Overbrook, Oklahoma
Growing up in Northern California, Callie McCarthy-Boevers was surrounded by agriculture and developed a passion for the agriculture and Western industries at a young age. With her family raising and showing American Quarter Horses, she grew up in the equine industry.
Throughout her years showing, she began to see the numerous advertisements that her fellow competitors would have in various publications in the industry. She became interested in learning how to design these ads for herself. She was fortunate enough to attend a high school that offered classes in design and allowed students to work with many of the top programs that are used in the industry.
It was from these experiences she chose to pursue a degree in agricultural communications. She wanted to combine her interest in graphic design and marketing with her passion for the equine industry. She attended Oklahoma State University to study agriculture communications and animal science. During her time at OSU, she had the opportunity to be a part of Agriculture Communicators of Tomorrow, Horseman's Association, and the Alpha Omicron Pi, Omega Sigma Chapter, as well as participating on the collegiate horse judging team.
Following graduation, she has had the unique opportunity in her career to combine her passion for the industry with her knowledge and experience in marketing and public relations. She develops strategic campaigns for the association, designed to share the NCHA brand with the world, attract new members, and showcase their core values and the sport of cutting.
Vision for the future of women in the Western industry: "My vision for the future of women in the Western industry is to serve as inspiring role models and to be the leading voice within the industry. Growing up, I was fortunate enough to be surrounded by strong female role models, many of which had deep ties to the Western lifestyle. From those I knew personally to those I admired within the Western community, each had their own unique story that played a vital role in shaping my life to where it is today. I am confident that these women will continue to shape my life through their inspiration, tenacity, and wisdom. And maybe, if I am lucky, I will be able to do that same for future generations."
Follow along with COWGIRL on Facebook, Instagram, and Twitter for more news and updates regarding COWGIRL 30 Under 30!
COWGIRL 30 Under 30, presented by Wrangler, is sponsored by Cavender's, Charlie 1 Horse Hats, Durango Boots, Montana Silversmiths, and The Cowboy Channel.