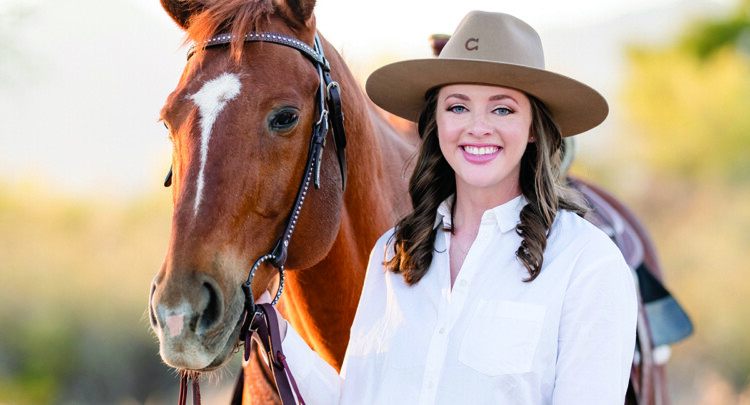 COWGIRL 30 Under 30 2022: Caroline Arendt
Caroline Arendt
Professional Title: Owner, Caroline Arendt Creative
Age: 26
Home: Tucson, Arizona
Horses have been a part of Caroline Arendt's story since she was a little girl. Thanks to said equines, she's always been an advocate for the Western lifestyle and all its romance, but it wasn't until she was obtaining her Agricultural Communications degree at Oklahoma State University that she truly fell in love with telling agriculture's story.
Once insecure about not growing up traditionally rural, it eventually dawned on her that she could bring a unique perspective to the table and help bridge the divide from producer to consumer—and even have a little fun with emojis along the way.
After graduation, and with a few years of agency experience under her belt, she decided to jump and launch her own social media marketing business catering to agriculture-related clients. Two years later, she has a full client roster made up of everything from performance horse operations to rural water organizations.
Throughout her short career, she's arguably had staggering opportunities to create good content to help tell even greater stories. From staying niche and working with brands like The Breeders' Cup and PRCA, she's gotten to meet, work alongside and collaborate with the best in the business.
Great experiences aside, it's not lost on her that she has the opportunity and responsibility to continue sharing rural stories and share them well. Thanks to horses, she's not only learned how to turn a passion into a career but have gotten to give back to the industry that's given so much to her.
Vision for the future of women in the Western industry: "There is no future for women in the Western industry if there is no Western Industry. There will always be anti-Western movements. It's our job as representatives and current voices to create seats at the table for every woman by continuing to constantly challenge the traditional Western stereotype.
"My vision for the future of women in the Western industry is to continue to pursue the promotion of an industry made up of traditional and non-traditional Western backgrounds alike, allowing for unique perspectives and ongoing conversations. Including everyone in these discussions, from first-generation ranchers to small business owners, from rodeo athletes to Western influencers and everyone in between gives the industry a unified voice full of representation, and makes it that much more approachable. The vision for the future of women in the Western industry appears different for everyone, but continuing to promote and share it should remain everyone's goal."
Follow along with COWGIRL on Facebook, Instagram, and Twitter for more news and updates regarding COWGIRL 30 Under 30!
COWGIRL 30 Under 30, presented by Wrangler, is sponsored by Cavender's, Charlie 1 Horse Hats, Durango Boots, Montana Silversmiths, and The Cowboy Channel.