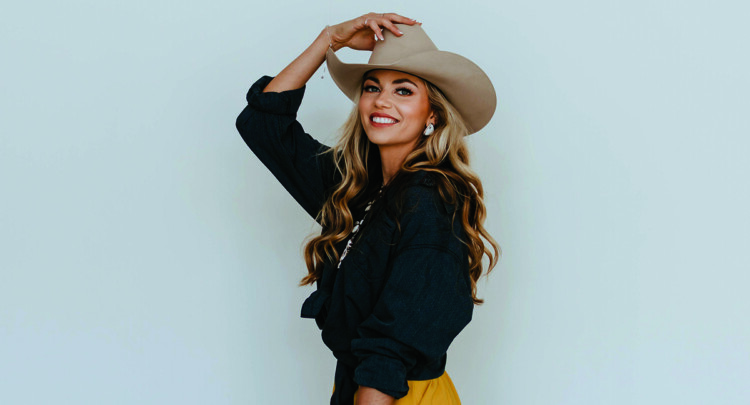 COWGIRL 30 Under 30 2022: Danielle Reinhart
Danielle Reinhart
Professional Title: Model, Western Fashion Content Creator, Project Manager for Netspend
Age: 30
Home: Granger, Texas
From the conference room to the practice pen, Dani Reinhart wears many different hats- a cowboy hat being one of her favorites. Corporate world Dani is a project manager in the financial technology world, who works with teams across the globe creating payment solutions…think Samsung Pay/ Apple Wallet.
When Dani is not wrangling engineers, graphic designers, software developers and managing project timelines, you can find this Canadian turned Texan modeling, creating Western fashion content, roping, riding, and doing everything in between! Dani currently resides in Granger, Texas, with her husband, three quarter horses, and a corgi named Reese.
Dani was born & raised in Calgary, Alberta, Canada, grew up in the local 4H club, was an NRHA competitor, received a Bachelor's degree in law & business, is a former 2013 Calgary Stampede Rodeo Princess and current Calgary Stampede Queens' Alumni Committee member.
Dani's passion for the Western industry and fashion began at a young age as she admired rodeo queens and fell in love with the amazing community rodeo had to offer. Her opportunities in the Western industry continued to grow since moving to Texas in 2016. Dani has had the opportunity to model and create Western fashion content for authentically Western brands like Wrangler, Stetson, Roper, Tin Haul, Dan Post Boot Company to mention a few. When Dani isn't modeling or creating fashion content, you can find her working on her breakaway roping and helping her husband train horses.
Vision for the future of women in the Western industry: "My vision for the future of women in the Western industry is for women to continue to build their own unique legacy, share their story and grow those around them. It is a future where women continue to prove there are no limitations, no definitions and never lose sight of the tradition, passion, and hard work of those who have paved the way before them. I see more opportunities, embraced authenticity, less of the status quo, an inclusive community and a group of women whose passion is contagious. The future for women in the Western industry is beyond bright, and my personal goal is to inspire and encourage our current and future generations to shine."
Follow along with COWGIRL on Facebook, Instagram, and Twitter for more news and updates regarding COWGIRL 30 Under 30!
COWGIRL 30 Under 30, presented by Wrangler, is sponsored by Cavender's, Charlie 1 Horse Hats, Durango Boots, Montana Silversmiths, and The Cowboy Channel.