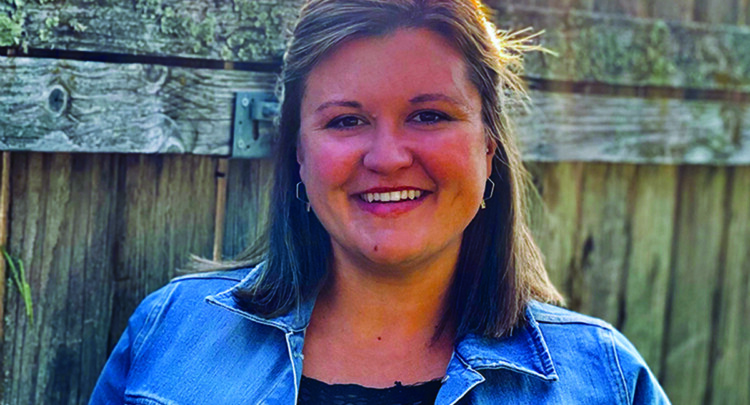 COWGIRL 30 Under 30 2022: Emily Bomgardner
Emily Bomgardner
Professional Title: Marketing Coordinator, Kimes Ranch Jeans
Age: 29
Home: Newcastle, California
Agriculture and the Western industry have been a part of Emily Bomgardner's life for as long as she can remember. She grew up in Northern California on her parent's hobby farm and grew up with all sorts of animals. Her parents instilled a love for all beings, an impeccable work ethic, and an understanding that sometimes life is hard, and that's ok, we're tougher.
Around the age of 11, she began showing an interest in horses, got her first horse, and never looked back. She rode anything with 4 legs and tried every discipline from rodeo to eventing to all-around events, reiners, and most recently has gotten into Ranch Horse Versatility and NRCHA events.
This passion for horses lead her to The University of Findlay where she double majored in Animal Science and Equine Business Management and minored in Equestrian Studies. Upon graduation from college, she continued her career in the veterinary industry and started writing blogs for Kimes Ranch Jeans, which was really her introduction into the Western industry on a more professional level.
Today, she is working full time with Kimes Ranch Jeans as their Marketing Coordinator and has continued riding horses for both passion and competition purposes. Her love and passion for the Western way of life has only grown through her time with Kimes Ranch, and she owes them a lot for all the opportunities that they have afforded her over the years.
Vision for the future of women in the Western industry: "My vision for the women of the future is to continue to grow and cultivate the Western industry in ways that are not always conventional. Women are gritty and passionate beings. Women impact the future every day, and I want us to continue building communities that inspire each other to create and grow in ways that we never dreamed of.
"I am blessed to work for a brand that has some truly incredible women within in it. I work every day to learn from those women and work to cultivate connections with others. The future is bright with the women in our industry, I am inspired by them every darn day, we have women doing jobs and creating roles in the industry that have never existed before, and that shows our grit and passion."
Follow along with COWGIRL on Facebook, Instagram, and Twitter for more news and updates regarding COWGIRL 30 Under 30!
COWGIRL 30 Under 30, presented by Wrangler, is sponsored by Cavender's, Charlie 1 Horse Hats, Durango Boots, Montana Silversmiths, and The Cowboy Channel.