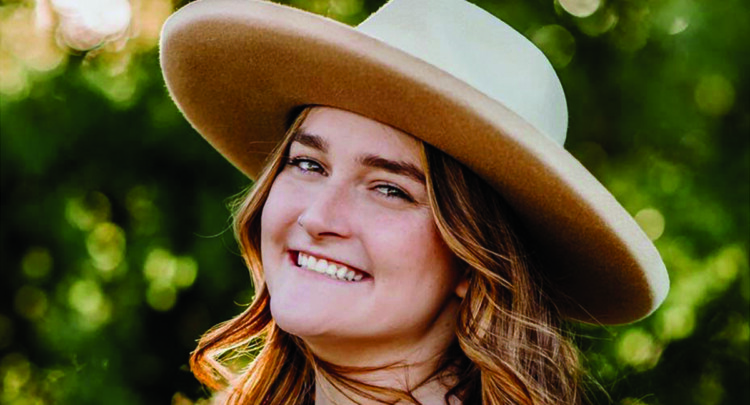 COWGIRL 30 Under 30 2022: Emily Miller
Emily Miller
Professional Title: Social Media Manager, Justin Brands
Age: 24
Home: Azle, Texas
Growing up in the suburbs of Austin, TX, Emily Miller had no Western influence until she joined her high school's FFA program. From that point on, she took any opportunity to be involved. From showing duroc gilts and participating in multiple Leadership and Career Development Events, to taking every agricultural class she could.
After high school, she knew she wanted to go to Tarleton State University to further her studies in Agriculture. During her college years, she had no clue what she wanted to do for a career but knew she wanted it to be in Agriculture. During her last semester at Tarleton, she interned at the Texas Department of Agriculture in the Marketing division and fell in love with marketing, specifically in the agricultural industry.
In 2019, she received her Bachelor's of Science in Agricultural Services and Development and was offered a full-time position at TDA and continued working in marketing as a Social Media Manager. When she was approached to interview for the Social Media Manager position at Justin Brands, she knew it was an opportunity she couldn't pass up. In the short time she has been at Justin, her passion for the Western industry has only grown stronger.
She gets to promote a wide variety of amazing people (such as their endorsees, the Justin Sportsmedicine Team, the Justin Cowboy Crisis Fund, etc.) and products as well as the history of four amazing brands that embody the standards set by the cowboys and cowgirls that came before us.
Vision for the future of women in the Western industry: "My vision for the future of women in the Western Industry is that we will continue to make space for women from all walks of life. The cowgirls of our past paved the way for women today. Just as they did, we are paving the way for future generations of cowgirls. By being inclusive of others, we have the opportunity to learn from one another and grow together. I am so thankful for the women in the Western Industry who have taken the time to teach me about agriculture and instill in me the ethics and grit that so many cowgirls embody. I hope to do the same for others so they will know that the Western Industry is a welcoming place for all. Women are so powerful, talented, and ambitious. I do not doubt in my mind that women will continue to be a positive influence for future generations."
Follow along with COWGIRL on Facebook, Instagram, and Twitter for more news and updates regarding COWGIRL 30 Under 30!
COWGIRL 30 Under 30, presented by Wrangler, is sponsored by Cavender's, Charlie 1 Horse Hats, Durango Boots, Montana Silversmiths, and The Cowboy Channel.