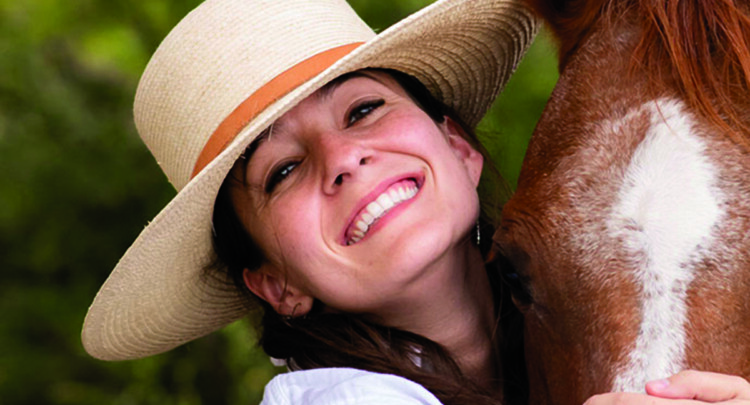 COWGIRL 30 Under 30 2022: Jessica Ogden
Jessica Ogden
Professional Title: Content Developer, Justin Brands
Age: 28
Home: Burleson, Texas
Jessica may not have been born in the industry, but she has made it her mission to build a life surrounded by horses. Growing up, she competed in high school rodeo and taught riding lessons, where she discovered her passion for sharing horsemanship with young riders. After working as the marketing force behind the innovative equine technology, NightWatch, she now serves as the written voice of Justin Brands. With a relentless passion for stories and celebrating the Western lifestyle, Jessica finds and shares stories of those with their boots on the ground upholding the character of the industry. Equipped with her love of history, Jessica brings the rich heritage and innovative designs of Justin, Tony Lama, Nocona, and Chippewa Boots to life in storytelling content pieces, various communications, commercials, and product descriptions. She believes it is an extreme honor being front row to her heroes in the rodeo arena for a company whose boots she has worn with pride her whole life. She has served on the board at the Wild Hope, an emerging equine therapy center committed to providing a safe space for complex trauma survivors to heal and foster belonging. She spends her spare time training her young homebred horse on her ranchette near Fort Worth and serving her church and local non-profits with her photography talents. Jessica believes in sharing the power of the horse with others and uplifting women in the industry through her photo essay series, the Cowgirl Chronicles.
Vision for the future of women in the Western industry: "It is my sincere belief that the cowgirl is a true force. She is both confident and humble. She sees a need and fills it with her unique flair. Her willpower is unbreakable, yet she carries compassion wherever she ventures. A cowgirl lives with her heart on her sleeve, gladly serving those around her. Women in the industry continually bring this powerful force into boardrooms, storefronts, arenas, schools, farms, and homes. I hope that we will welcome women entering the Western industry with open arms because we need our collective giftings and stories. With a dedicated passion, an abundance of humility, and even more hard work, a cowgirl can do anything she sets her mind to and pursues. On top of that, when we encourage each other and celebrate this diverse community, our future in the Western industry is truly limitless!"
Follow along with COWGIRL on Facebook, Instagram, and Twitter for more news and updates regarding COWGIRL 30 Under 30!
COWGIRL 30 Under 30, presented by Wrangler, is sponsored by Cavender's, Charlie 1 Horse Hats, Durango Boots, Montana Silversmiths, and The Cowboy Channel.