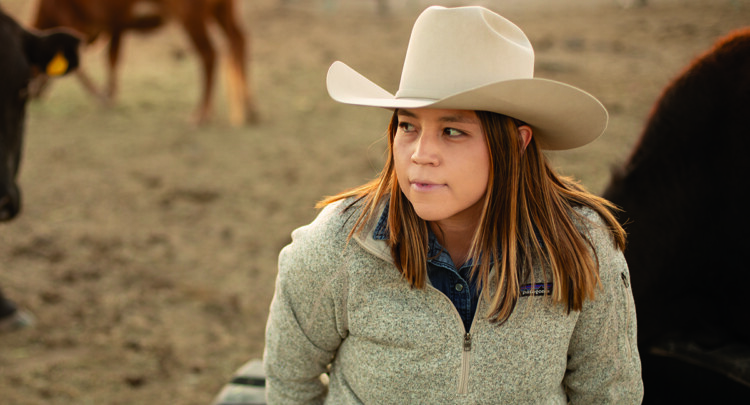 COWGIRL  30 Under 30 2022: Kayla Jackson
Kayla Jackson
Professional Title: Freelance Western Photographer/Videographer
Age: 28
Home: Many Farms, Arizona
Raised in Round Rock, Arizona, immersed in the Western way of life Kayla Jackson began capturing images of her lifestyle. Born and raised with horses, cattle, and sheep on her family's ranch in the desolate landscape filled with mesas, red sand, sand dunes, and the Navajo way of life. Kayla acknowledged and grew to appreciate her lifestyle at an early age, grounded by humble teachings she saw beauty in hard work, triumph in the first moment of life when an animal takes its first breath, and an eternity of love found in the gentleness from their eyes. Kayla's father raised her to be a cowboy, he taught her hard work will provide for you. She gathers her passion from her father's teachings and encouragement to continue on their legacy. She uses her camera in a unique way of educating and telling stories within her images. Educating the unknown of Navajo ranches and the discipline of witnessing it every day. She captures the beauty by emphasizing the connection between animal and human and their interaction with the land. Like the teachings of the Navajo way, rise before the sun to greet the early dawn, which is a foundation she uses in her photographs by utilizing Father Sun to highlight her subjects with vibrant colors. With her images she chooses to connect with her viewers, making visual connections and personal connections. Carrying on the traditions and capturing new legacy are what Kayla's images portray.
Vision for the future of women in the Western industry: "I have to pay my respects to the cowgirls who have trail-blazed the trails before us. Those tenacious strong cowgirls have built this great name we stand proudly behind. We owe it to them to keep on blazing the trail with fresh tracks. The future of women in our Western industry is in the youth we raise to be kind-hearted cowkids. I want to focus my efforts on the youth in the Western industry. I believe we as an industry must try our best to encourage the youth in becoming respectful cowgirls and cowboys. We owe it to our elders to carry on their legacy with our youth. We must educate the new eyes we attract in a nice way. This day and age we can easily communicate with social media and social encounters. I believe we all need more cowgirls and cowboys in our lives."
Follow along with COWGIRL on Facebook, Instagram, and Twitter for more news and updates regarding COWGIRL 30 Under 30!
COWGIRL 30 Under 30, presented by Wrangler, is sponsored by Cavender's, Charlie 1 Horse Hats, Durango Boots, Montana Silversmiths, and The Cowboy Channel.