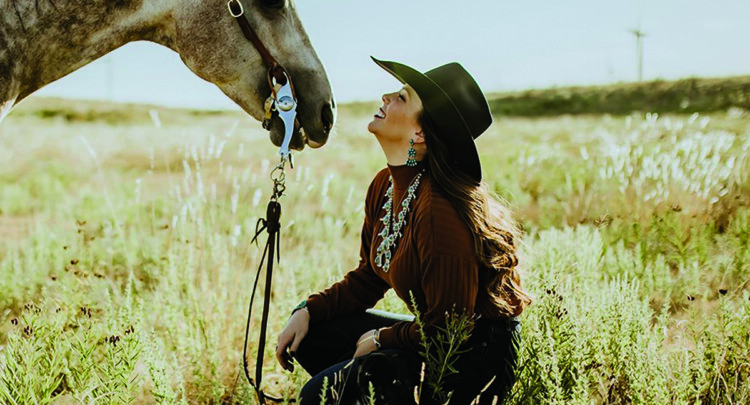 COWGIRL 30 Under 30 2022: Kyla Jones
Kyla Jones
Professional Title: Communication Liaison, American Quarter Horse Association (AQHA)
Age: 25
Home: Amarillo, Texas
A New Mexico cowgirl with an obsession for horses, Kyla Jones turned her passion into a profession. At a young age, she was heavily involved in rodeo queen pageants to be a more proficient public speaker, while also remaining as close to horses as possible. From there, an adoration for the Western lifestyle surpassed just a hobby and grew into a home she would continue to build a life in. As a teenager, Jones was an avid competitor in National Reining Horse Association events. Her success in the show pen led to an equestrian scholarship to ride for the New Mexico State Equestrian team as a Reiner. During her college years, Jones was introduced to the world of agriculture communications and the growing need to advocate for agriculture and the Western industry. After transferring to West Texas A&M University in Canyon, Texas, she was on the collegiate horse judging team, completed an internship with the American Quarter Horse Association, and was crowned Miss Rodeo New Mexico in 2017. Today, she is back with AQHA as the communications liaison and is an active volunteer with youth judging teams, volunteers with horse camps in New Mexico, and also produced the first Curry County AQHA VRH Horse Show in Clovis, New Mexico. In her free time, she and her husband operate a cow-calf operation as Rafter J Ranch. In her eyes, a day spent with horses or with horse people is a day well spent.
Vision for the future of women in the Western industry: "The history of the American West could not have been written without women. From pioneers and outlaws to businesswomen and leaders, we are all familiar with their stories and their impact on our industry today. The future holds a similar narrative in the sense that modern women possess the same grit and determination mixed with accomplishments that nearly sound like fiction, but are whole heartedly true. One thing that has changed is our ability to communicate and share these stories to people outside of our industry and what we know to be familiar. Over the past few years, the western lifestyle has reached a broader audience through social media and mainstream television showcasing the cowboy way. This allows us to have a more diverse group join our ranks. The more, the merrier! The modern cowgirl mold will change, but we were born to break the mold anyway."
"
Follow along with COWGIRL on Facebook, Instagram, and Twitter for more news and updates regarding COWGIRL 30 Under 30!
COWGIRL 30 Under 30, presented by Wrangler, is sponsored by The Cowboy Channel, Montana Silversmiths, Durango Boots, Charlie 1 Horse Hats, and Cavender's.