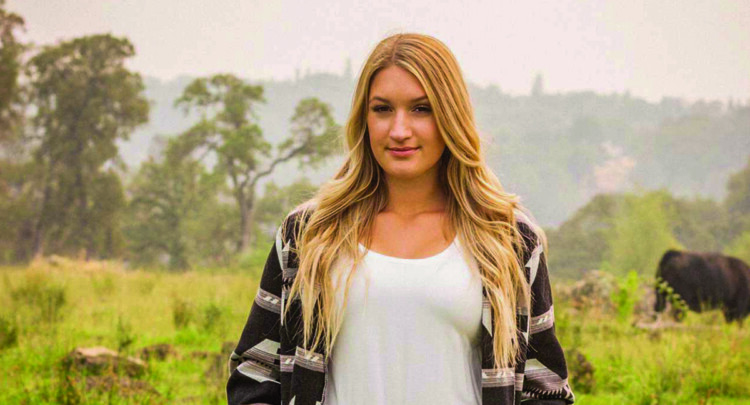 COWGIRL 30 Under 30 2022: Maddie Prechter
Maddie Prechter
Professional Title: Ranch Manager, Prechter Livestock
Age: 21
Home: Grass Valley, California
Born into a first-generation commercial cow/calf operation in northern California, Maddie Prechter found her passion for the cattle industry at a young age. She grew up ranching with her family and quickly fell for the cowboy lifestyle. Participating in 4-H and FFA, she gained valuable skills and knowledge within the industry. From there, she showed cattle across the northern states forming an even deeper connection and appreciation for the western way of life and this ultimately led to her dreams of breeding and raising her own cattle. She decided to bring her dreams to fruition with the Angus breed and show steers. Her dedication led her to manage her family's commercial cow/calf operation and grow her own herd of registered cattle. Alongside the commercial cattle and registered Angus, she markets show steers every fall. Prechter loves being involved in all aspects of the livestock industry and has developed an enthusiasm for working with youth. Maddie remembers the excitement that she felt growing up and enjoys getting kids excited about the livestock industry as well. Her goal is to relate to and connect with her charges in a calm, collected, and passionate teaching nature. She strives to be a role model and inspire others. Maddie is always willing to help and will take on any challenge that comes her way. Currently, she spends most of her days riding through cows, making management decisions, and preparing kids and livestock for the next show.
Vision for the future of women in the Western industry: "Working with young women in this industry truly makes me excited to see where the future of the western lifestyle is headed. Women in this industry are a bit more rare, but the strength, determination, grit, and compassion these women have make them second-to-none. The way women are advocating for the lifestyle they love is encouraging the next generation of young cowgirls to not give up on what they believe in. The sky's the limit on what women can accomplish and it surely makes me excited to see what we will do! Alone we can do so little and together we can do so much."
Follow along with COWGIRL on Facebook, Instagram, and Twitter for more news and updates regarding COWGIRL 30 Under 30!
COWGIRL 30 Under 30, presented by Wrangler, is sponsored by Cavender's, Charlie 1 Horse Hats, Durango Boots, Montana Silversmiths, and The Cowboy Channel.