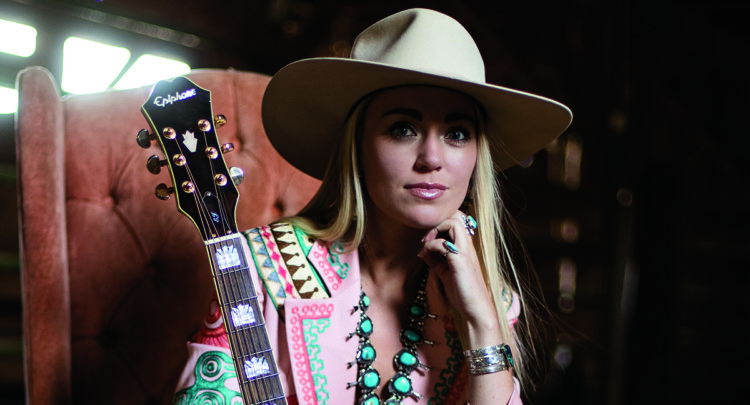 COWGIRL 30 Under 30 2022: Olivia Harms
Olivia Harms
Professional Title: Professional Musician, Olivia Harms
Age: 26
Home: Canby, Oregon
Olivia Harms was born Western Music royalty, but the rhinestone cowgirl stepped out on her own crafting a sound equal partsBakersfi eld, Texas, and Nashville country.
The daughter of Western Music Hall of Fame member Joni Harms, Olivia's artistic identity has been honed since she was young. Olivia grew up on the family ranch in Canby, Ore., and made her first appearance on stage when she was two days old. 26 years later, Olivia is following in her mother's creative boot steps and blazing her own trail.
Olivia's second album "Rhinestone Cowgirl", released May 21st, 2021, was recorded in Nashville. The 11-song collection calls out to cowboys, name-drops George Strait, swings through Buckaroo territory, and packs plenty of twang and steel guitar. Olivia co-wrote every song on the IWMA nominated album.
"I wanted a very traditional country vibe, some Bakersfi eld sound, and country-western swing to bring back honky-tonks." Olivia explained. "I wanted folks in and out of the Western life to connect with my songs and relate to them."
When she was 6 years old, Santa Claus delivered her first guitar and sparked her love of songwriting. The singer grew up performing on stages with her mother. Olivia remembers yodeling in Europe and singing "I Want to Be a Cowboy's Sweetheart" inNew Zealand." As an adult, Olivia has played at the WNFR in Las Vegas, AQHA World Show in Oklahoma City, Bluebird Cafe in Nashville, and many more. She is working hard to put the Western back in country music.
Vision for the future of women in the Western industry: "Cowgirl's have grit, grace, strength, courage, and ambition. They face challenges in our modern Wild West. Not backing down or taking no for an answer. They are tough enough to stand up for what is right and tender enough to have conversations about our industry's most sensitive topics. Advocating for the things that keep our Western way of life alive. Striving to teach and inform others about the beauty that is the Western lifestyle.
The future is bright thanks to the modern-day cowgirl. They help outsiders understand our heritage and why we are so proud of it. They are welcoming and encouraging to everyone in search of their inner Cowgirl. Modern-day Cowgirls build up those around them, and cheer each other on, wanting to see each other succeed and take on the world. Because it's no secret if the world had more cowgirls, the world would be a better place!"
Follow along with COWGIRL on Facebook, Instagram, and Twitter for more news and updates regarding COWGIRL 30 Under 30!
COWGIRL 30 Under 30, presented by Wrangler, is sponsored by Cavender's, Charlie 1 Horse Hats, Durango Boots, Montana Silversmiths, and The Cowboy Channel.