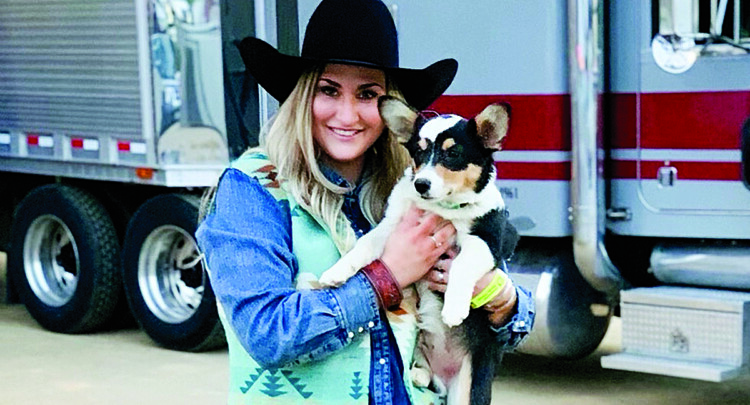 COWGIRL 30 Under 30 2022: Sadie Berger
Sadie Berger
Professional Title: Social Media, Marketing & Sales Manager, Chad Berger Bucking Bulls Inc.
Age: 30
Home: Mandan, North Dakota
Born and raised in Mandan, ND where family roots run deep in ranching and rodeo, Sadie Berger grew up going to cattle sales, rodeos, and team ropings all over the state with her dad who is a third-generation rancher and second-generation cattle buyer and rodeo/bull riding stock contractor.
Junior rodeo was a fun activity for Saide, but took to the court and played basketball until she graduated high school in 2010. Sadie attended Dickinson State University where she majored in Business with minors in Marketing and Management. When she wasn't working in the classroom, Sadie was on the road with the family business, Chad Berger Bucking Bulls & Dakota Rodeo Company. Taking charge of the marketing, social media, sales, and sponsorship for the companies has kept Sadie busy ever since. She takes pride in being a cowgirl and having the opportunity to care for some of the best bucking bulls in the world.
Vision for the future of women in the Western industry: "My vision for the future of women in the Western industry is to keep making our mark! Growing up around bucking stock has taught me so much about being a woman in what many like to call a "man's world." I've learned that I am just as capable and determined as the men I work with every day and I want to show other women that it's possible. The future is so bright for women in our industry and I would like to keep pushing the envelope by helping these women receive more recognition for everything they are doing to showcase our world, sport, and heritage!"
Follow along with COWGIRL on Facebook, Instagram, and Twitter for more news and updates regarding COWGIRL 30 Under 30!
COWGIRL 30 Under 30, presented by Wrangler, is sponsored by Cavender's, Charlie 1 Horse Hats, Durango Boots, Montana Silversmiths, and The Cowboy Channel.