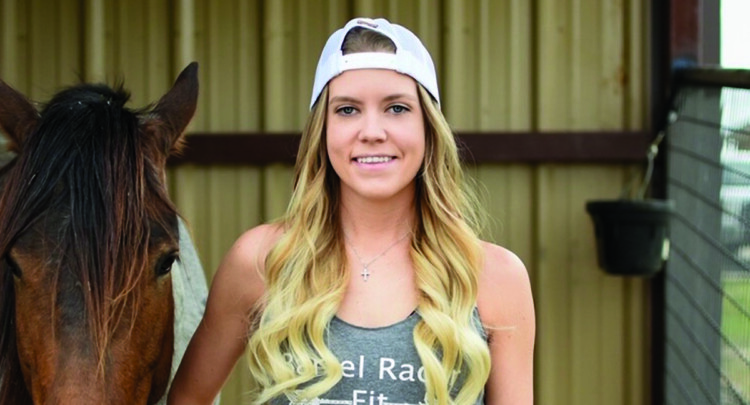 COWGIRL 30 Under 30 2022: Sarah Van Vuren
Sarah Van Vuren
Professional Title: Certified Personal Trainer & Owner, Barrel Racer Fit
Age: 28
Home: Azle, Texas
Fitness and horses have always represented an interesting dichotomy in Sahra's life. Growing up in a very competitive baseball/softball family, strength and conditioning started at a young age, but so did her love for their horses. Just like many girls, Sarah had aspirations of running down the coveted alley of the Thomas & Mack one day.
After graduating from college, beginning her career in marketing, and starting to consistently barrel race again, Sarah had a strong pull to help others and be a part of something bigger than herself. While at a jackpot, Sarah had the realization that we hold our horses to such a high athletic standard, but it became clear that most of us barrel racers don't do the same for ourselves.
From that moment, she decided to jump in head first to make an impact on the industry and sport she loves so much by combining those two constants in her life — fitness and horses. Unlike many mainstream sports, sport-specific training hadn't quite become a thing for barrel racing, so Sarah became a Certified Personal Trainer and Sports Nutrition Specialist for the sole purpose of helping barrel racers become better athletes specifically for their sport.
Sarah has had the opportunity to work with so many barrel racers over the last few years including 2020 NFR Qualifier Jimmie Smith. Sarah doesn't have dreams of running down the alley of the Thomas & Mack anymore, but she does have dreams of helping as many women as possible to get there.
Vision for the future of women in the Western industry: "Like the evolution we've seen in the importance of health and fitness in many other sports over the years, I envision barrel racing to being no different. As the horsepower continues to get better, it's only fitting that we continue to raise the bar for athletic standards for ourselves so we can jockey these incredible animals.
I see the next generation of barrel racers normalizing the need for sport-specific training and understanding the competitive edge that bettering themselves as athletes will give them in the arena. Not only by increasing their strength and mobility, but also increasing overall health to withstand the wear and tear they endure being on the road for a majority of the year.|
The future of this sport and the amazing women competing in it is so bright, and I hope I can play even just a small role in taking both to the next level."
Follow along with COWGIRL on Facebook, Instagram, and Twitter for more news and updates regarding COWGIRL 30 Under 30!
COWGIRL 30 Under 30, presented by Wrangler, is sponsored by Cavender's, Charlie 1 Horse Hats, Durango Boots, Montana Silversmiths, and The Cowboy Channel.