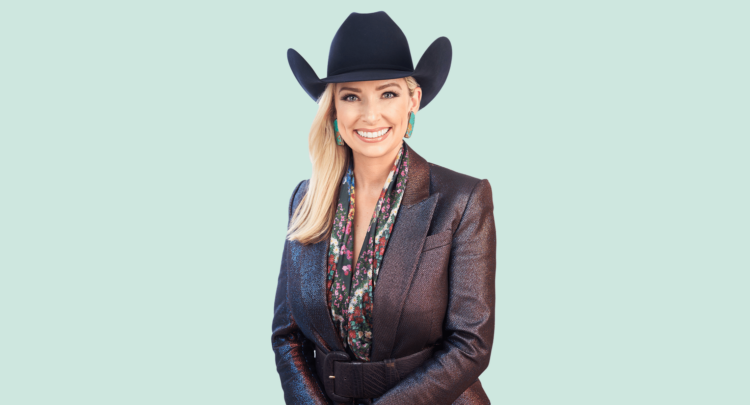 Kadee Coffman Will Host The Wrangler COWGIRL 30 Under 30 Empowered Gala
Kadee Coffman, the veteran national television host, and network sports reporter, will be the Master of Ceremonies and host when the class of 2022 is honored at the Wrangler COWGIRL 30 Under 30 Empowered Gala at Hotel Drover in the historic Fort Worth Stockyards on March 4, 2022.
The former Miss Rodeo California who is widely recognized for her national TV host and sideline reporting on CBS Sports Network, NBC Sports Network, Great American Country (GAC), RFD-TV, and The Cowboy Channel, will join COWGIRL Magazine in honoring the esteemed 2022 class.
A veteran to the form, Coffman has moderated star-studded events including sit-down interviews with Academy Award winner Diane Keaton, New York Times Best Selling Author Moll Anderson, and Emmy Winning TV personality Carson Kressley.
"I am honored to emcee and celebrate this year's class of COWGIRL 30 under 30," says Coffman. "The young women being recognized contribute and make a significant difference in our industry, and I look forward to watching them put their best boot forward with continued success."
The Empowered Gala will take place amidst the rustic-luxe grandeur of The Barn, Hotel Drover's warmly appointed and intimate special events venue. Honorees of the COWGIRL 30 Under 30 class of 2022 will be treated to a Hotel Drover veranda champagne reception and red-carpet entry beginning at 6:00 PM, followed by the Empowered Gala inside. Guest speakers will include event sponsors from COWGIRL, Wrangler, Montana Silversmiths, Charlie 1 Horse Hats, Durango Boots, Cavender's, and The Cowboy Channel.
A private live concert featuring Big Sky recording artist Stephanie Quayle will begin at 9:00 PM.
The mission of COWGIRL 30 Under 30 is to seek out and publicly recognize young women who are making a name for themselves within the Western industry. Whether they be corporate executives, professional athletes, media professionals, performers, or working cowgirls, it is COWGIRL 30 Under 30's aim to shed light and show just how vital these young and talented women are to its industry. COWGIRL 30 Under 30 also strives to create and grow a network of individuals who can serve as role models and mentors for the future leaders of our industry.
Learn more about the COWGIRL 30 Under 30 at cowgirl30under30.com and cowgirlmagazine.com.